Other Extra-Curricular Opportunities
Robotics Club
Robot Maker Club members create all kinds of projects, including, but not limited to, robots.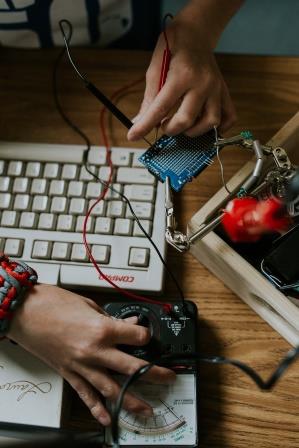 In the club students learn different aspects of robot creation including how to design a 3D model of a robot component for print, learn a programming language, print the parts, etc. The club has access to a 3D Solidoodle printer so that students can design and print off their own robotic pieces, allowing them to truly build whatever they can imagine.
The club, comprised of approximately 15 students to date, is structured around a badge system. As many of the students are already involved in other extra-curricular activities, the badge system allows them to work on a project as they have time or from home. Students earn badges as they complete different aspects of their projects, including designing a 3D model of a robot component for printing, learn a programming language, printing a part, etc.
Yearbook Club
RCS has a Yearbook Club in which students interested in photography, working on layouts or with skills in computer technology are welcome to join. There are also opportunities for students interested in marketing and promotion.
Additional Extra-Curricular Opportunities
Please note that our web-site is not an inclusive list of all the extra-curricular opportunities we have to offer at RCS. Many programs are added on an "upon interest" basis as our school community continues to grow. If you would like more information on an activity you do not see here, feel free to contact the school at 306-775-0919.